2015 Limited Edition Tommy Thayer "White Lightning" Les Paul Outfit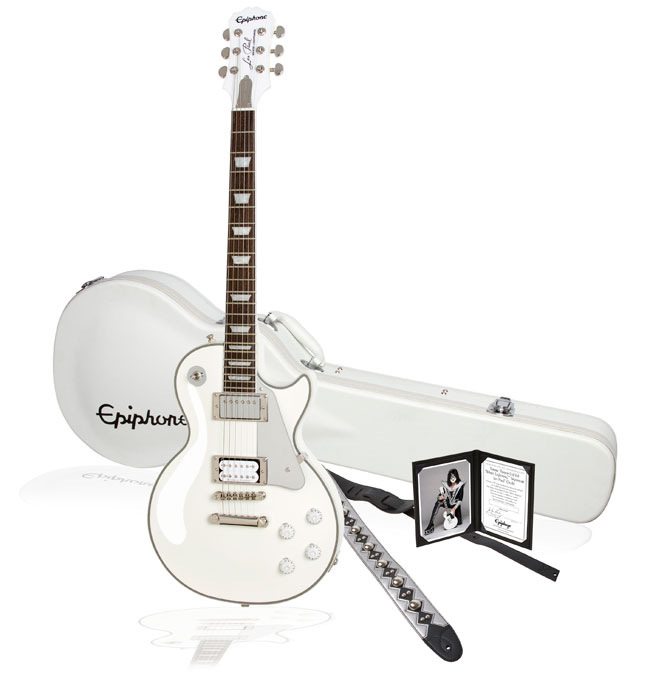 from Epiphone.com-
Epiphone presents the Ltd. Ed. Tommy Thayer "White Lightning" Les Paul Outfit, Epiphone's second Les Paul collaboration with one of the most exciting guitarists on the planet, Tommy "Spaceman" Thayer of KISS.
In 2014, Epiphone's Tommy Thayer Ltd. Ed. "Spaceman" Les Paul Standard Outfit was an instant success. Now for 2015, Tommy is back with another one-of-a-kind Les Paul design, the Ltd. Ed. Tommy Thayer "White Lightning" Les Paul Outfit featuring a beautiful custom finish and Seymour Duncan® JB™ Humbuckers especially chosen by Tommy himself along with a custom hard case.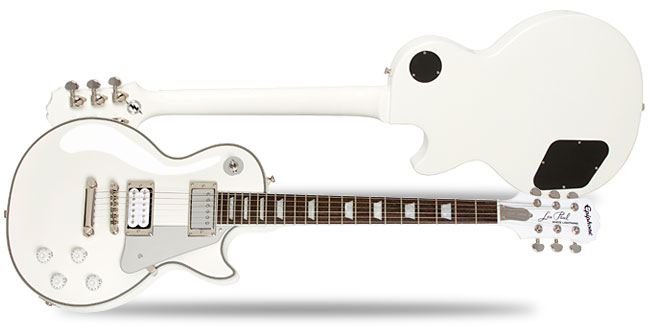 "My new White Lightning signature model is the pinnacle of looks, style and flash," says Tommy. "I'm proud to put my name on a serious guitar that can be enjoyed at home or rock the biggest stages in the world."
There has never been an American rock and roll band like KISS, recognized by the Rock and Roll Hall of Fame as one of the greatest trailblazing rock bands of all time. And Tommy "Spaceman" Thayer's life story is the classic tale of a musician who knew from childhood that his future was on stage, playing a Les Paul.
Thayer has been part of the KISS family since 1985 as a songwriter and guitarist, working behind-the-scenes at rehearsals and on studio demos. Finally, in 2002, Tommy became a full-fledged member, joining KISS on stage as the iconic "Spaceman" and giving the rock legends an explosive new sound and attitude. Now with the new Ltd. Ed. "White Lightning" Les Paul Outfit, Tommy is ready to rock with a new sound and a killer new Les Paul.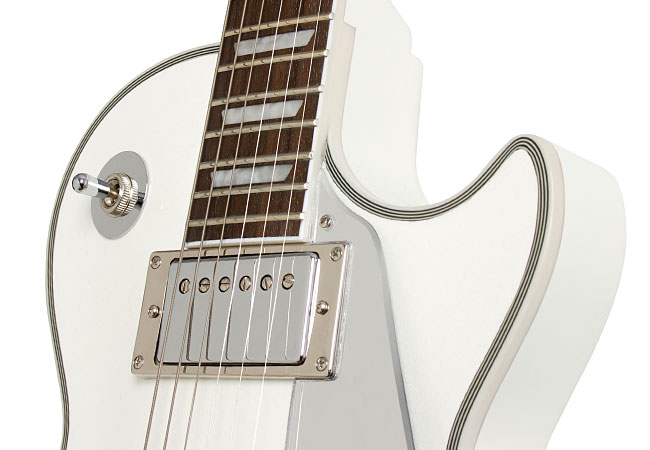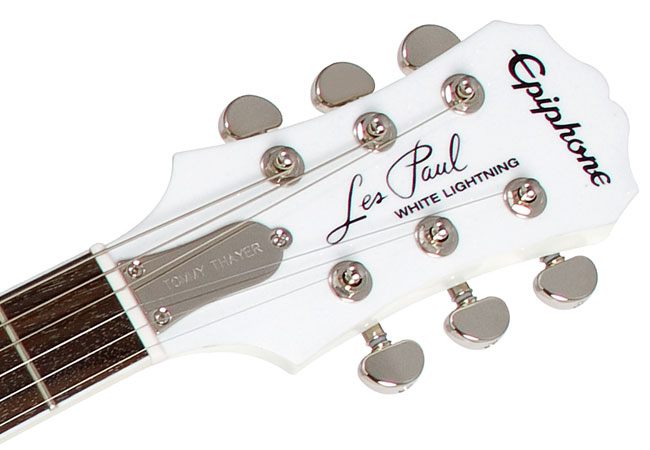 Modern Look, Classic Sound
The Epiphone Ltd. Ed. Tommy Thayer "White Lightning" Les Paul Outfit features a solid Mahogany body and a plain Maple Veneer Top finished in beautiful Metallic White with a chrome colored pickguard, all chosen by Tommy. The body also has 7-ply (pure white and black) binding on the top and single-ply pure white binding on the fingerboard.
Tommy's new Les Paul has a Mahogany body that delivers the classic tone and sustain that all true Les Pauls are known for. The 1960s SlimTaper™ "D" profile Mahogany neck has a deep-set, glued-in neck joint, a 24.75″ scale length, 22 medium jumbo frets, and a 1.68″ nut. The headstock has "Tommy Thayer" engraved on a chrome/metal truss rod cover and a Ltd. Ed. "White Lightning" logo on the back of the headstock.
Like all Epiphone Les Paul Standards, the Ltd. Ed. Tommy Thayer "White Lightning" Les Paul features a 14-degree headstock that gives you more pressure at the nut (in matching white!) for more sustain with less tuning hang-ups caused by "string-tree" gadgets. The Rosewood fingerboard has a 12″ radius and pearloid trapezoid inlays. And the hand-set neck delivers outstanding string-to-body resonance while the medium-jumbo frets add to the smooth and sustained tone.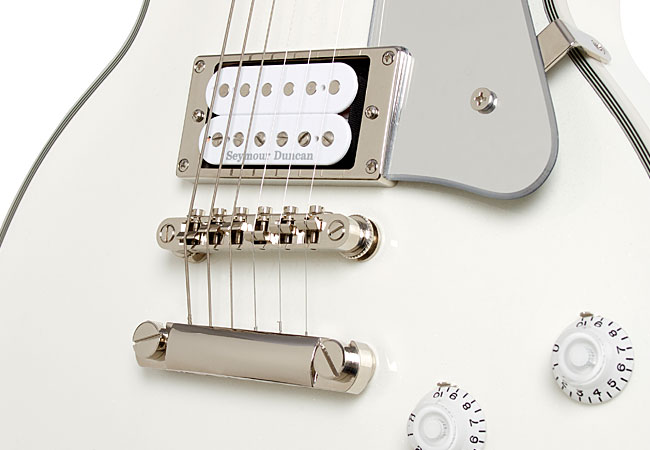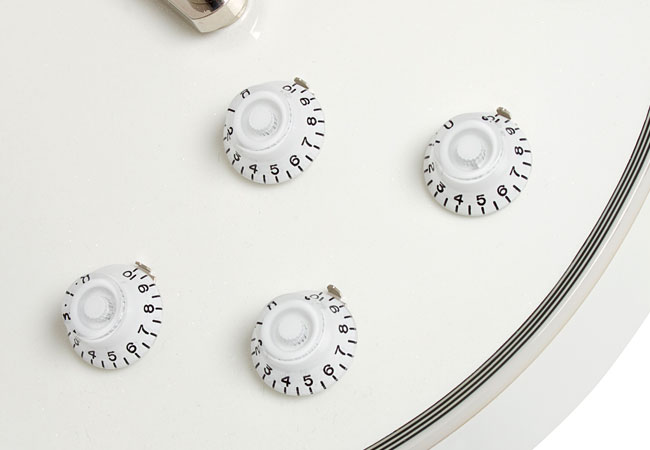 Seymour Duncan® Humbuckers
Seymour Duncan is world renown as one of the foremost experts in electric pickups. And for his "White Lightning" Les Paul, Tommy choose two outstanding Seymour Duncan® JB™ Humbuckers. Seymour Duncan® JB™ Humbuckers are the original archetype hot-rod humbucker and one of Duncan's earliest and most revered designs. For over 30 years, Les Paul fans have loved JB™ Humbuckers, which are great for everything from heavy blues to heavy metal.
The neck pickup features a covered JB™ humbucker with chrome mounting rings while the bridge pickup features an open-coil JB™ Humbucker with white bobbins. Controls are standard Les Paul style volume and tone potentiometers with white "Top Hats" with metal pointers.
Legendary Epiphone Hardware
The Ltd. Ed. Tommy Thayer "White Lightning" Les Paul Outfit features Epiphone's legendary rock solid nickel hardware including a locking Tune-o-matic™ fully adjustable bridge and a StopBar tailpiece, still a classic after 50 years. And now, Epiphone's updated, patent pending design auto-locks the bridge and tailpiece in place with no tools needed for the kind of sustain that Mr. Les Paul always imagined possible.
The Ltd. Ed. Tommy Thayer "White Lightning" Les Paul Outfit uses 1″ diameter potentiometers for better "throw," longer life, and reliable service. Epiphone's all-metal 3-way toggle switch uses rugged spring-steel contacts to ensure years of reliable service and performance and Epiphone's proprietary output jack features an improved contact shape and heavy-duty spring steel to increase reliability. Tommy's new "White Lightning" comes with pro Grover® Rotomatics™ machine heads with a superb 18:1 tuning ratio. And last but not least, the "White Lightning" has its own matching custom hard case in a White Lightning Pure White finish.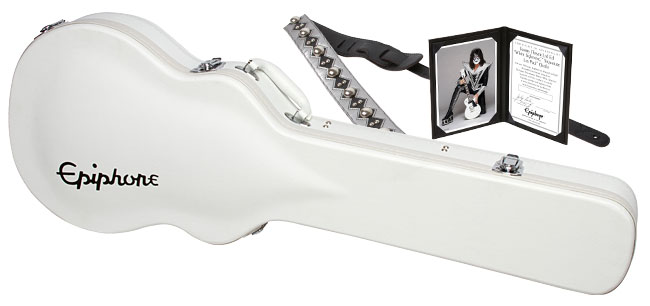 Custom Hard Case and Certificate of Authenticity
Epiphone's Ltd. Ed. Tommy Thayer "White Lightning" Les Paul Outfit comes with an "Inspired by" Custom Studded Leather Strap just like Tommy's original, a Hand Signed Certificate of Authenticity, a binder with certificate and official photograph, and Epiphone's customary accessories including a user's manual, Epiphone poster, Epiphone bumper sticker, and truss rod wrench.
Want to order this guitar? Click the button below or call us at 516-626-9292!