Reblog: Collector's Choice and Signature Guitars: The "Whys" and "Hows" of Replicating Vintage Gibsons
from Gibson.com–
Nowhere in America is the intricate craftsmanship of guitar-making more fully in evidence than at Gibson's Custom Shop in Nashville, Tennessee. Much of the efforts of those involved is devoted to producing limited runs of guitars—Collector's Choice™ and Signature models—that replicate prized instruments owned by legendary players or avid collectors. The goal behind these efforts is straightforward: to create a means by which players of all stripes have the opportunity to own a precisely-rendered reproduction of a classic instrument, oftentimes a Les Paul produced originally in the late '50s.
"The late '50s marked the pinnacle of guitar-building," observes Edwin Wilson, who has overseen the Custom Shop's Historic Program since its inception. "It was a remarkably innovative time for Gibson. The company created more models, during that short time-frame, that at any other point in the company's history. The electric guitars Gibson made in the '50s really set a precedent for everything in the music industry."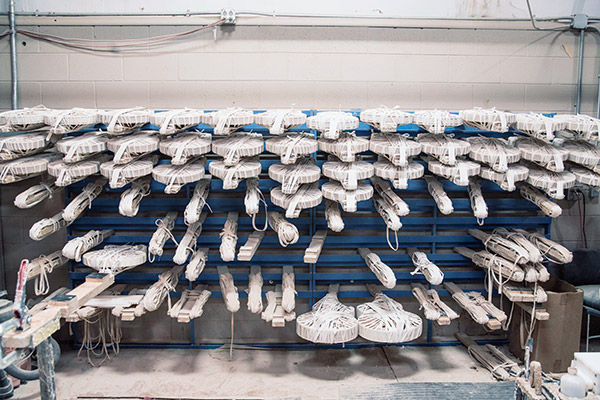 Gibson Custom guitars are still bound by hand and placed on drying racks, where they sit overnight until they are ready to move on to the next step
At the time, of course, no one foresaw that these instruments would one day be uniquely revered. As the British Invasion took hold in the mid and late '60s, a clutch of pioneering players chose these guitars—and '59 Les Pauls in particular—as their go-to six-string. Aspiring rock and rollers everywhere took notice. "If Jimmy Page had played a Les Paul Junior, I'm sure that would have been the guitar that everybody would have wanted," says Wilson. "But he used a Sunburst Les Paul. And he influenced more people, with that guitar, than any other artist ever did."
Wilson continues: "Other players had a profound influence as well—Duane Allman, Eric Clapton, Jeff Beck, Michael Bloomfield. All these guys were playing Sunburst Les Pauls–and all of this was happening several years after 1959. The guitar was still affordable at that time, but it was something Gibson was no longer making. People started looking for those guitars, and because there weren't that many of them, they became hot commodities. Everybody wanted to be Jimmy Page. It was only natural that the price would go up."
Inevitably, as asking prices for vintage Gibson electrics soared, the marketplace attracted collectors—people who perhaps weren't exceptional players, but who had the financial means to purchase the instrument. Market forces—specifically, a fixed supply combined with growing demand–worked their magic, and prices escalated further. Fast forward to today, and the vast majority of '59 Sunburst Les Pauls, and other vintage Gibson electrics, are beyond the reach of the average consumer.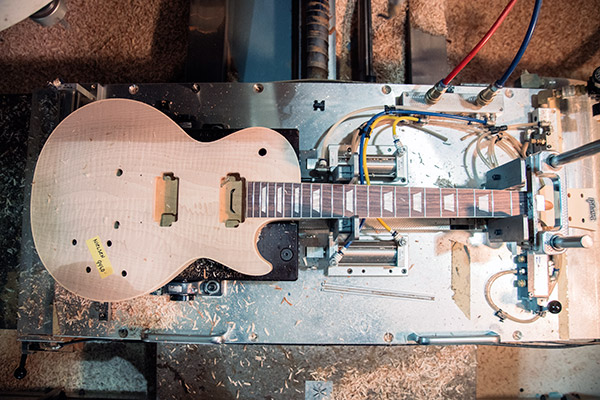 Most artist and Collector's Choice™ models feature a true historic double carved top introduced in 2015. This process removes aggressive sanding and retains more of the dish carve profile found on originals from the 1950.
"Today, if you go to buy a vintage guitar, the guitars that bring the most money are those made in the '50s," says Wilson. "That's true across the board. The price right now for a '59 Les Paul is approaching mid six figures. Even if you get one of the less-detailed models, such as a Les Paul Junior, you're still going to pay five figures for that guitar. It's remarkable. When that guitar came out, it was basically considered an entry-level instrument."
Obviously, the Custom Shop can do nothing to make these classics less expensive, but it can—and does–do the next best thing. The vast majority of '59 Les Pauls, and other vintage Gibson electrics, are in the hands of renowned players and established collectors. The Custom Shop regularly networks with both communities, weighing various factors in determining whether a particular guitar is a good candidate for the Collector's Choice or Signature series.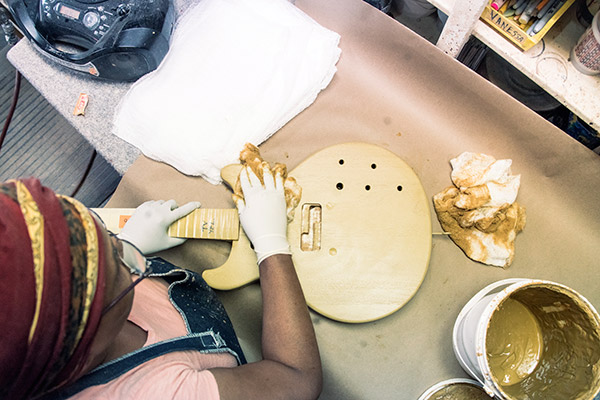 Gibson Custom still does much of its finish work by hand, like it was done on originals. Here, tv yellow stain is hand applied before a nitro-cellulose top coat is sprayed over it
"Some of these folks have huge collections—Flying Vs, Les Pauls, Les Paul Juniors, Explorers, other models," Wilson points out. "These are the people who shape the market for vintage guitars, which in turn shapes the market for the guitars the Custom Shop decides to replicate. As a guitar becomes popular in vintage circles, it also becomes a guitar we look at as a candidate for replicating."
Wilson further explains: "There are lots of things we consider. Maybe it's the top, maybe it's the sound, maybe it's the neck, maybe it's who has owned the guitar—the story behind it, where it came from."
After the decision is made to replicate a particular instrument, the Custom Shop seeks out the owner of that guitar, often with help from the vintage community. It's important to note that Wilson and the Custom Shop staff also have access to meticulous records, maintained by Gibson, regarding materials and electronics used in the production of all the vintage models. Almost invariably, the owner is enthusiastically receptive to the idea of having his or her guitar replicated. Once the Custom Shop has the instrument in-hand, the process begins with a high-tech scanning procedure.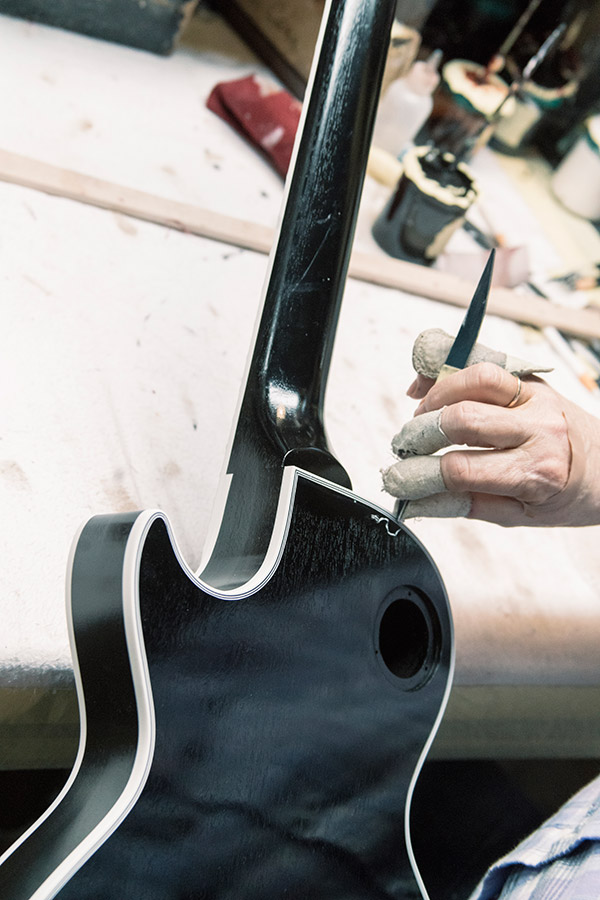 One of the most delicate procedures is removing finish from the binding. It takes great skill and patience and is done entirely by hand with no masking or guides
"We have a 3-D laser scanner—a stationary scanner—and we have special fixtures we put the guitars on so that we can get the information we need about the neck, the top, and the headstock," says Wilson. "It creates a 3-D image, displayed on a computer screen. That information is then imported into a couple of different programs, and we use that to duplicate the dimensions with 100 percent accuracy."
In fact, every detail of the guitar is documented—including every wear mark, and every nuance with regard to color and patina. Wilson adds that replicating the neck is often the most difficult part of the procedure. "For each of the 600-plus '59 Les Pauls that were originally made, each neck is slightly unique from the previous neck," he explains. "Getting that intricate detail into the neck is without a doubt the most challenging part of the process. You might be talking about a difference of a thousandth of an inch. You have to duplicate that, so that each neck is an accurate representation of the neck we're copying."
Of course, crafting a Collector's Choice™ or Signature instrument also involves considerations beyond playability and cosmetics. An exceptional degree of diligence goes into capturing the tone of the instrument being reproduced. In the late '50s, for instance, the coils for PAF pickups were wound by machines that often varied slightly in the number of turns. Hence, some original PAFs produce a more "high-end" sound, while some yield a higher degree of "bass."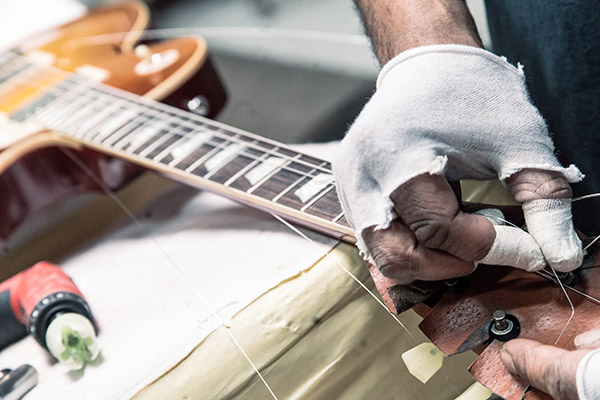 A Collector's Choice Les Paul goes through two separate stages of final setup, allowing the guitar to rest in between so that it arrives at its destination playing to factory specifications
"We take that into account," says Wilson. "Gibson makes several types of pickups. When the original guitar comes in, we'll measure the output of the pickup, and of course we'll play the guitar and listen to what it sounds like. First, we try to match the output of the original with a pickup we have in stock. We can generally dial that in with an existing pickup. However, if it's something that's really unique, we'll recreate a new pickup, from scratch."
Once completed, the prototype is then delivered to the artist or to the collector, who may or may not suggest further work or changes. Most recently, the Custom Shop worked closely with Cheap Trick's Rick Nielsen on a replica of his '59 Les Paul. Exercising due diligence, the Custom Shop replicated the guitar's chrome-plated replacement bridge. Turns out, however, that Nielsen preferred that the Signature model feature the original nickel bridge. Of course, the Custom Shop made the adjustment. Nielsen also requested a replication of the original '59 Les Paul "Lifton" case—properly relic'd. Again, the Custom Shop obliged.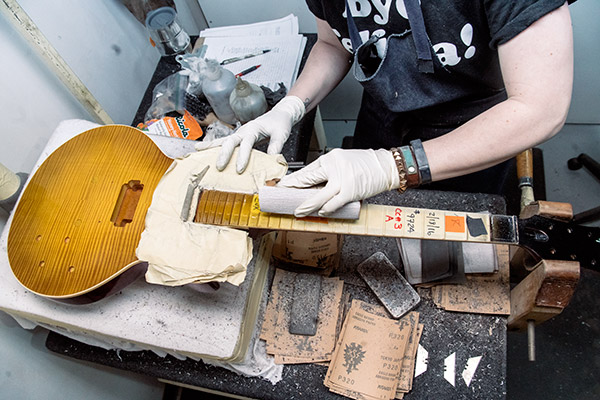 The majority of work is still done by hand on all Gibson Custom guitars. Shown here is a replica 1959 Les Paul going through one of the many hand-processes involved.
"They did an excellent job, just amazing," says Nielsen. "My '59 Les Paul has a really nice tiger-stripe, curly-maple on the top—real tight—and they replicated that. They also got the weight exactly right. All the Les Pauls from the late '50s sounded a bit different, and they obviously took that into account with regard to wiring, the strength of the pickups … technical things I know little about. It sounds excellent."
Indeed, when asked to cite the most satisfying aspect of the process, Wilson has a straightforward response. "The most interesting part of it is at the very end," he says, "when we have color on the guitar, we have the finish, and we're getting into aging the finish. That's when you sense everything coming together. You pick up the guitar, you feel the neck, it feels like the guitar you copied—and the color looks perfect. As these thing come together, that's the best part."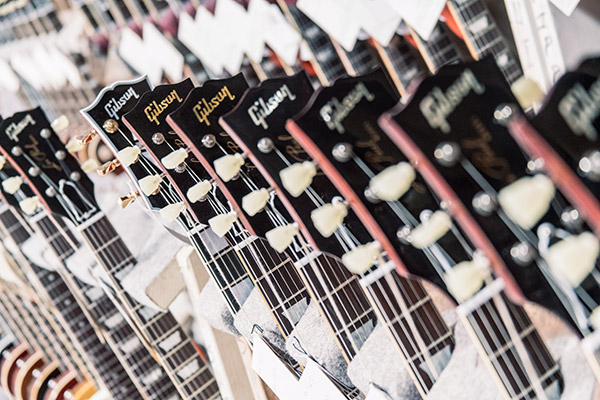 Once through final inspection, every custom shop guitar is racked and looked over once more before being put in a case and boxed for shipment