The Gibson Custom Shop Ron Wood L-5S Signature Guitar
The L-5S is the subject of much confusion, often mistaken for a caricature of the Les Paul, or a solid-body ES-175. However, the L-5S is very much an animal with features innate only to itself. From it's stately shape, to it's noteworthy appointments, the L-5S is a recognizable member of the Gibson family. Not only is it recognizable, but it is acclaimed by fans like legendary Rolling Stones musician, Ron Wood. Read on to see the differences between the L-5, L-5S, and the 2015 Ron Wood L-5S as described by Gibson.
The Original L-5
Keen Gibson fans will know that the original L-5 wasn't an electric guitar at all. Introduced in 1923, the L-5 was Gibson's first f-hole archtop guitar, its "L" serving tribute to legendary luthier Lloyd Loar. As the company's flagship model, the L-5 was jazzbox luxury with a price to match. It went through many changes – many due to WWII's enforcement of high-grade timber rationing – and eventually became an electric model in the early 1950s (the L-5CES).
But the L-5CES was nothing much like the L-5S that would follow in the 1970s and '80s. It remains very much a "jazz" guitar – and a classic design at that.
"Woody" clearly has a thing about all L-5s. He plays his vintage 1948 non-cutaway version to warm-up backstage for Stones gigs. The guitar is used for that and that alone, and rarely seen in public, though it is photographed in Lisa S Johnson's fabulous 108 Rockstar Guitars book – visit the 108 Rock Star Guitars website.

The Original L-5S
The L-5S was introduced in 1972, and essentially a smaller, thinner solid-body version of the popular Gibson L-5 hollowbody of that era. Like the L-5, it featured multiple binding on the single-cutaway body, neck, and headstock, and also featured an ebony fingerboard with block inlays.
The first headstock featured a flower-pot inlay similar to the L-5 archtop and most L5-S models featured the L-5 trapeze tailpiece (though some had stopbar or TP-6 fine-tuning tailpieces). The L5-S was available in various finishes, such as ebony, cherry sunburst, and natural.
At first, the L-5S featured two low-impedance pickups, similar to those found on several Gibson Les Pauls of that period, such as the Les Paul Recording model, the Signature model, the Personal model, and the Professional model. These weren't a success, however, and Gibson switched from low-impedance pickups to regular 'buckers in '74.
Again, it was Gibson's flagship model (for an electric, this time) costing more than the highest-end Les Paul Custom. And with its wide body, the L5-S was heavy – some Gibson dealers joke that pristine '70s and '80s L-5S cases are rarer than the guitars themselves as the handles on the custom cases apparently kept breaking!
Wood was again a fan. He had Gibson make custom-build him a single pickup (bridge) version which he played extensively and also loaned to Keith Richards' for Talk Is Cheap X-Pensive Winos tour of 1988.
Although never a mass-appeal guitar, the L-5S did find favor with famous players other than Wood and Richards: jazz great Pat Martino played an L5-S in the 1970s, and Paul Simon also used a black-finished model in the '70s and '80s; he can be seen playing it in One Trick Pony and other concert movies. The L-5S was noted for great sustain (that big body!) and great for jazz, blues and rock it's no one trick pony, that's for sure.
Yet perhaps its versatility was too much for some? Consistent production ceased in 1983, with only a brief Gibson Custom Shop run in 2004-'05 since. But now…?
2015's Gibson Ron Wood L-5S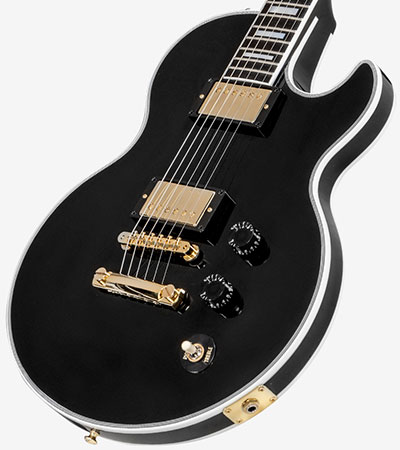 Wood caused a Stones stir back in 2014 when he posted a pic of himself on Twitter with his L5-S prototype (see below). Again, it seemed it was only a minority of Gibson players who knew they were seeing – a new take on the L-5S.
Developed in close conjunction with the Stones legend, the Ron Wood L-5S is another new twist on an under-the-radar Gibson classic. The 2015 model still has an all-maple body (2-piece top, 3-piece middle, 2-piece back) but now there is weight relief. Pickups are Burstbucker 1 (neck) and Burstbucker 2 (bridge), colored by just two master volume and tone controls.
The maple/walnut neck and ebony 'board are of 25 ½-inch scale and carved to Wood's own preference. The ebony finish, pearl inlays and gold hardware gives Gibson's timeless "Tuxedo" look. The Gibson Ron Wood L-5S is a limited run of 300, with the first 50 hand-signed by Woody. Check the full spec of the Gibson Ron Wood L-5S.